Monday June 21, 2021
Washington News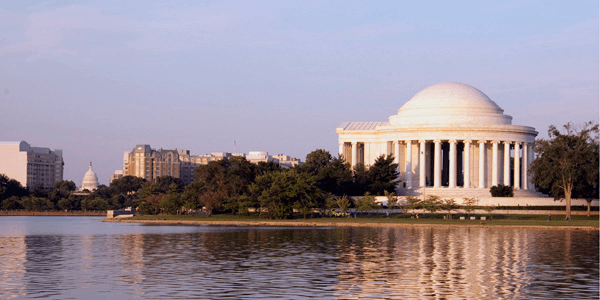 IRS Highlights Tax Credits to Encourage Employment
The Bureau of Labor Statistics reported the latest employment data in a news release on September 23, 2020. Unemployment in America rose from 4% in February 2020 to over 14% in April due to COVID-19 shutdowns. Since April, the unemployment trend has decreased. The rate in August 2020 declined to 8.4%. The number of nonfarm employees increased by 1.4 million in August.

Many individuals changed from office to telework in March 2020. Over 24% of employed individuals teleworked during August. However, there were still 24 million individuals who were not working because their employer closed down or reduced staffing due to the pandemic.

The August increase in employment is due in part to tax credits included in the CARES Act. On September 23, the IRS published a letter during Small Business Week to remind individuals and employers about the CARES Act employment credits.

The Employee Retention Credit encourages businesses to keep employees on the payroll. The credit is 50% of wages paid by an eligible employer, up to $5,000.

To qualify for an Employee Retention Credit, an employer must have had a business that was fully or partially suspended by government order during the coronavirus pandemic. In addition, the gross receipts of the business must have fallen by 50% as compared to 2019.

A second available benefit under the CARES Act is the Paid Sick Leave Credit. An employer may receive a refundable tax credit for the cost of providing sick leave to an employee who is unable to work in person or telework due to a coronavirus quarantine. The credit limit is $510 per day, or a total of $5,110.

The Paid Sick Leave Credit is also available for employers required to provide paid time off to employees who are caring for a coronavirus patient or for a child whose school is closed and there is no childcare available due to the coronavirus. The benefit may be up to two weeks of sick leave paid at two-thirds of the employee's regular pay amount, up to $200 per day or $2,000 total.

Employers may immediately reduce their employment taxes for individuals who qualify for the credits.

Editor's Note: As workers slowly return to factories, schools and offices, these credits have assisted individuals by encouraging employers to retain staff. While there are still millions unemployed, the general trend is toward higher levels of employment.


Syndicated Conservation Easements Grew in 2018

On September 21, 2020, Senate Finance Committee Chairman Chuck Grassley (R-IA) and Senate Finance Committee Ranking Member Ron Wyden (D-OR) released data on the growth of syndicated conservation easements in 2018. The press release indicates that the number of participants in syndicated conservation easement partnerships and the dollar value of those interests increased from 2017 to 2018.

Senator Grassley stated, "The numbers provided by IRS show that dubious syndicated conservation easement tax shelters are a growing problem. Using sham partnerships to essentially buy tax breaks like this undermines the fairness of the American tax system, deprives the Treasury of revenue and leaves all other taxpayers out to dry."

Senator Wyden stated, "Our bipartisan report detailed serious and persistent abuse of the syndicated conservation easement program. This new IRS data, which shows a significant increase in these transactions in recent years, reinforces our findings." Wyden continued, "Cracking down on abusive syndicated conservation easements requires ensuring IRS has the resources and legal tools to do its job, and I am eager to work in a bipartisan way to get that done."

IRS Commissioner Chuck Rettig noted that the IRS "has strong reason for taking an enforcement action against syndicated conservation easement transactions." Rettig stated, "The IRS has been continuing in its cross-function outreach and enforcement efforts with respect to syndicated conservation easement transactions. These efforts include investigations of promoters, examinations of taxpayers and successful litigation as well as outreach through press releases and conferences.

Commissioner Rettig reviewed syndicated conservation easements for 2016, 2017 and 2018. In that time, the unique investors increased from 12,000 in 2016 to 16,900 in 2018.

The reported fair market value of charitable deductions claimed through syndicated partnership easements also increased. The charitable deductions totaled $6 billion in 2016 and increased to $9.2 billion in 2018.

Sen. Grassley has been concerned about inflated appraisals by a limited number of appraisers. The number of appraisers involved in syndicated conservation easement partnerships was 23 in 2016, 29 in 2017 and 34 in 2018.

Finally, Congress has been concerned about the level of leverage promised and delivered in the syndicated partnership transactions. The IRS data shows the ratio between the amount of investment in the partnership and the claimed charitable deduction. In 2018, the syndicated partnerships delivered a charitable deduction that was an average of 4.87 times the initial investment.

However, the top 10% of the syndicated easement transactions delivered a much higher ratio. For the top 10% of the partnerships, the ratio of the charitable deduction to the initial investment was 9.45 times the initial investment.

Editor's Note: Chairman Grassley, and Ranking Member Wyden continue to pressure Commissioner Rettig and the IRS to maintain their enforcement efforts. There are 80 syndicated conservation easement cases currently pending in Tax Court. The IRS expects to win nearly all of these cases. Many of the investors are contemplating or have initiated litigation against the promoters, and this conflict will be in the courts for many years.


Final Regulations on Private University 1.4% Excise Tax

On September 18, 2020, Treasury published final regulations (T.D. 9917) on the 1.4% excise tax on net investment income of certain private colleges and universities.

Section 4968(b)(1) states that an educational institution with at least 500 tuition-paying students, more than 50% of whom are located in the United States, that is not a state college or university, will be subject to the 1.4% tax if it has nonexempt assets with fair market value of $500,000 per student. The determination of 500 or more students is based on the daily average of full-time students and a conversion of part-time students into full time equivalents.

In June 2018, the IRS issued Notice 2019-55, 2018-26 I.R.B. 773 and provided interim guidance. On July 3, 2019, the IRS published REG-106877-18, 84 FR 31795 and issued proposed regulations. The final regulations are generally consistent with the proposed regulations, but there are several beneficial changes.

Net investment income under Section 4968 is specifically defined for purposes of the 1.4% excise tax. This definition is preferable to the proposed regulations method that imported the private foundation rules of Section 4940(c).

Gross investment income is defined as income from interest, dividends, rents, payments on securities loans and royalties. However, gross investment income does not include the amounts subject to unrelated business income tax.

There are also exclusions for interest income from loans that enable a student to attend a college or university. The rental income from student, faculty and staff housing and royalty income from patents, copyrights, and other intellectual property are also excluded. The exclusion of interest from student loans and rental income was welcomed by colleges and universities. These items are essential to assisting students and faculty to attend or teach at a college or university.

Finally, the exempt assets of the institution are excluded. Exempt assets are defined as those that are actually used for the exempt educational purpose.

Charitable remainder trusts and charitable lead trusts are not considered related organizations. Other taxable trusts are also excluded from the definition of related organizations.

Colleges or universities that are near the 500 full-time equivalent standard will need to determine whether a student is tuition-paying and therefore counts toward the threshold. The scholarships awarded by a school are not tuition payments, but scholarships from third parties are considered to be tuition payments. The general principle is that tuition payments from students or third parties are treated the same.

The institution is permitted to exclude a reasonable cash balance. The proposed regulations reasonable cash balance of 1.5% of exempt assets may be modified by a reasonable method, such as calculating an amount equal to three months of operating expenses.

Karin L. Johns is a representative of the National Association of Independent Colleges and Universities. She commented, "The tax itself is unprecedented in that it's levied only against one sector of higher education. It also does nothing to support students, is an unfair punishment of private colleges and sets a dangerous precedent of federal intrusion into charitable giving and eligibility for federal assistance. While final guidance was certainly needed for the private colleges to comply with all the undefined terms, we remain steadfastly opposed to this tax and support continued efforts to have it repealed."


Applicable Federal Rate of 0.4% for October -- Rev. Rul. 2020-20; 2020-41 IRB 1 (16 September 2020)

The IRS has announced the Applicable Federal Rate (AFR) for October of 2020. The AFR under Section 7520 for the month of October is 0.4%. The rates for September of 0.4% or August of 0.4% also may be used. The highest AFR is beneficial for charitable deductions of remainder interests. The lowest AFR is best for lead trusts and life estate reserved agreements. With a gift annuity, if the annuitant desires greater tax-free payments the lowest AFR is preferable. During 2020, pooled income funds in existence less than three tax years must use a 2.2% deemed rate of return.

Published September 25, 2020
Previous Articles
8.8 Million Unclaimed Stimulus Payments
Non-Filers Can Still Claim 2020 Stimulus Payments
Protect Yourself with a Hurricane or Natural Disaster Plan